THE LAB8 WAY
Don't know where to begin? Your journey starts by determining your learning path for the coming months. Maybe you're looking to change careers, or simply want to build a new skill in your current career, whether that's in web or mobile development, prototyping connected devices, or creating video games or mixed reality experiences. Our mentors help you tailor your own personal learning path. How to get to where you want to go: what you need to learn and why.
Personal Curriculum
You will build your own curriculum of online courses and books, with the advice of our mentors, andthat of your peers who can recommend resources they themselves had success with.
Learning Circles
You will share, learn from and support others at your level in our weekly learning circles.
Workshops to Become Job Ready
You will learn the fundamental skills you'll use in a work environment, through workshops created by top devs from places like Shutterstock, Shopify and SAP Labs.
Soft Skills Employers Love
At every learning circle you will learn a new skill that employers wish their applicants had, such as collaboration, design thinking and communication skills.
Incredible Mentors
Receive guidance from mentors who work in top tech companies, and past graduates who have taken a similar path to yours.
The Pitonneux Family
You will join a growing community of 2500+ techies, entrepreneurs, designers, hackers, game developers, coders and friends.
WHO IS LAB8 FOR?
You are a self-starter, past the beginner stage and ready to level up. You like the freedom of building your own learning track, and you are looking to add more structure and accountability to your learning process. You have the time to make LAB12 your primary focus (20-40 hours per week is typical).
Career Switchers
You've been doing online programming courses and have a few small projects under your belt. You need to level up fast so that you can launch a new career in this exciting new field, with great compensation and meaningful work. Leveraging your existing skills, you set the foundation for your new journey.
Entrepreneurs
You have an idea for a new project or business and you need to build an MVP. You will learn which tech stacks to choose, how to pick a CTO, build your MVP yourself, and at the end of the program you will be pitching your new startup in front of potential investors, team members and customers.
Skill Builders
You want to add a programming skill to your existing career toolbox. For example, you're a journalist and you want to develop data visualization skills to give you that extra edge. Or knowing the ins and outs of building Wordpress sites will help you score more marketing contracts.
Marie-Eve Gauthier, Frontend Developer @ Breather
I taught french in Spain for 7 years. When I came back to Montréal I decided I wanted to become a web developer. After I graduated from a full-stack bootcamp program, I wanted to get more experience before jumping in the real working world. I joined LAB12, and built a feminist movie recommendation engine with my team. Certainly, the dedicated tech mentors' presence was a great help, beyond just the technical aspects, it was at a human level that LAB12 gave me the confidence that I needed to face my new career of web developer. After LAB12 it wasn't long until I got hired.
David Brassard-Potvin, Founder @ Coriandr
I was working on a startup idea and LAB12 had the startup mentors, support and technical environment I needed to take my project to the next level. I ended up pitching at a competition and came in first prize out of 20 other competitors. In addition to that I can now communicate business needs clearly to developers, can speak the same language they do and have an entire tech community from which to find developers.
THE LAB8 PROGRAM
The LAB8 program is built with three key components: Learning Circles, Team Projects, and Mentors.
Learning Circles
In the weekly learning circle you will share what you learned or how you advanced on your project. We have hands-on activities to apply to your project, and we help each other out.
Team Projects
Work on a meaningful, real-world project, with others who have complementary skills. After 8 weeks, show it off at MTL NewTech Demo Night before a crowd of 200 people from the tech community.
Mentors
Mentors are always there to ask for help, either in person or on our community Slack. We also invite special guests, and tailored workshops are given by senior developers with a lot of experience under their belt.
Form a team and decide on your project for the next 8 weeks. Attend the weekly learning circles with your cohort. Choose the technical workshops that will lay your coding foundations. Learn Git and GitHub, build a One-Hour Prototype, and settle into a collaboration routine.
month 2 - hack and company tours
For the next 4 weeks, focus completely on your project in our hackdays hosted by a variety of tech company offices in Montreal, so you're ready to present it to the Montreal tech community.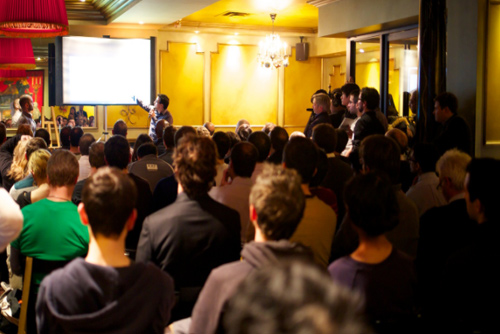 Continue your growth as a developer by staying actively involved in the Pitonneux community. Keep building connections with hiring team leads, meet with startups at the Coffee & Code sessions, and give back to the community by volunteering for LAB8 to help someone else find their path.
meet your amazing mentors
We have partnered with startups and some of the larger tech companies, in order to give you privileged access to some of the most experienced and talented mentors in Montréal with skills ranging from Javascript, design, Front-end Development, IoT, Ruby and Python. We are extremely grateful for the time and dedication they are giving us. We can find mentors who are experts in almost any technology or subject you might be learning.
ROBERTA VOULON, Co-founder @ Les Pitonneux
After leaving behind a career in the game industry, she thought a talent incubator might be a great place to learn to code, if only it existed. And so now it does, after a whole community made it happen. Roberta has been helping others make a career change since 2015. Previously worked at Ubisoft, Orange/France Telecom and other companies, and designed retro game controllers and arcade cabinets. Currently learning Python and Data Science.
PAOLO MELGAREJO, CEO @ Ikiru.ai
Your startup mentor, Paolo, is a full-stack developer and serial entrepreneur who has designed products for companies such as the Stanford Research Institute, Dow Chemicals and Konica Minolta. In addition to giving you a framework for developing an MVP, hiring the right developers, and technical roadmapping he will also help you nail job interviews, make your resumes shine and boost your confidence. Proficient in: Machine Learning, Javascript, Python, NodeJS, UX Research
ANDRE-JOHN MAS, CTO @ AI Medical Startup
As a software engineer with over 20 years of experience at top companies such as IBM and Morgan Stanley, his wealth of experience will be invaluable to help you think like a software engineer and become a better problem solver. His expertise includes: Javascript, Node, Java, database design, software architecture and security. He's also the VP of technical development at Otakuthon, one of the world's largest anime conventions.
ÉTIENNE CARON, Android Lead Developer @ Google
Recognized by Google as an expert in Android and Android Things, he's a speaker at Android conferences in Europe and North-America, including Droidcon and Google I/O. He is an instructor at Caster.io and has been creating mixed reality experiences through non-profit Osmos Academy as a co-founder. He can help you with best practices on developing Android applications, whether that's a mobile app or an IoT device or a VR experience.
ILIAS BENJELLOUN, Interpreneurship Catalyst @ DesjardinsLab.com
Ilias is a rock in the Montréal tech and startup community, and someone who sees huge potential in the smallest of seeds. He drives MTL NewTech, and your one-on-one pitch training with him will make sure your presentation is on fire on Demo Night
MAREK ZALUSKI, Founder @ Lab Zed Technology
Creator and organizer of Startup Tech Talks, a technology advisor for Notman House and CTO in residence at District 3.
LAB12 COHORT STARTING September 2, 2019
We are now taking registrations for our seventh cohort, kicking off on September 2, 2019.